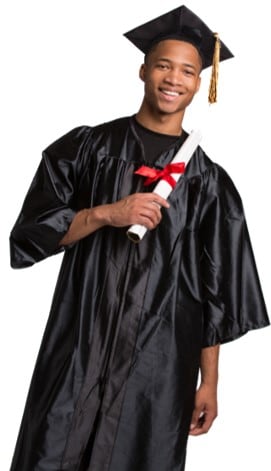 Just graduated? After congratulations are in order, it's time to start thinking about your future, and most likely, that future involves a new set of wheels to get you on the right path to wherever your career or new endeavors take you. For many recent graduates, attaining a new luxury SUV or used luxury car poses difficulties due to a lack of credit history. However, here at Tom Kelley Volvo Cars located near New Haven, IN, and Columbia City, IN, we fully understand how your minimal credit history has nothing to do with your ability to be a responsible car owner or leaser. That's where the Volvo College Graduate Program comes in.
Learn more about what this program could do for you as a recent grad. For one, you can count on it, taking you closer to getting behind the wheel of your dream luxury car in Fort Wayne.
Rates and Financing that Works for Recent College Grads
The pillar of the Volvo College Graduate Program is all in the financing rates. These competitive numbers on your down payment and other financing-related requirements can be enacted on a new Volvo, a used vehicle, or a certified pre-owned model in our inventory. Whether you choose to drive home in a new Volvo XC40 or a used luxury vehicle, you'll enjoy the following perks as part of this program:
Low financing rates and an available 5% down payment
No need for a co-signer
Must have minimal credit history
The combination of these perks makes attaining your next vehicle as a recent college graduate that much more possible. Never fret having minimal information on your credit report due to your focus on your studies. This program is designed to make driving home in your dream car simple. If you have a question regarding the requirements and if you meet them, please contact our local team of financing experts in the heart of Fort Wayne to learn more.
Three Steps to Getting Inside Your Luxury Car or SUV
Meet the criteria? It only takes three easy steps to participate in our Volvo College Graduate Program and get behind the wheel of your used luxury car or new Volvo car today. Learn more about it here:
Shop Our Fort Wayne Inventory
Take a look at our online inventory full of a variety of choices. You can all the intel on price structure and incentive opportunities you need to make your choice from your smartphone or computer. Find options like the Volvo S60 sedan, the compact Volvo XC60 SUV, and the subcompact and sporty Volvo XC40 SUV in our luxury inventory. Or, find a variety of used luxury car options in our selection as well.
Meet Your Next Model
Once you've landed on the right model for your Auburn, IN drives, it's time to visit our dealership in person. Tom Kelley Volvo Cars is located in the greater Fort Wayne area and just minutes from local towns like Huntington, IN, for your convenience. When it's time to visit us, simply bring the required paperwork, and we'll help you through the financing application and process.
Drive Home with a Volvo Today
This is a same-day process that doesn't drag on. Once you've finished off the financing with one of our friendly expert team members, you can drive home in Fort Wayne with the luxury car or SUV that perfectly suits your future.
Have Questions? Contact Us Today
It's never too late to ask a question or simply get in contact with one of our team members to explore your financing options as a recent college grad. We know this time can be stressful, and having the right vehicle nailed down to take you to your future is the first step on a bright path to further success. So get in touch or visit us today.