Meet the Future with the Volvo Hybrid and Electric Lineup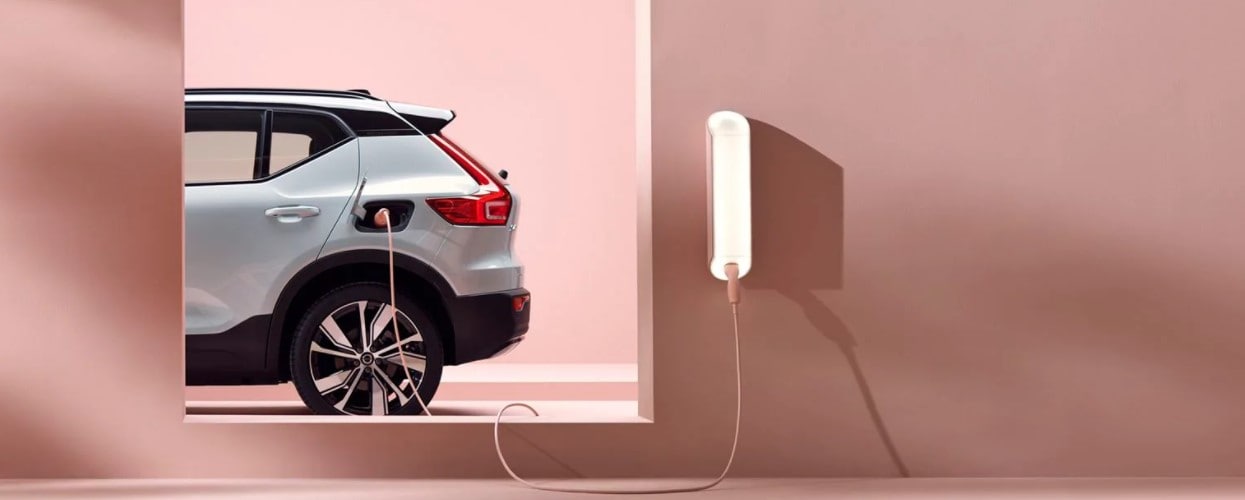 Redefining the Future of Automobility: Volvo Hybrid and Electric Vehicles Ready for the Streets of Fort Wayne
Volvo has always done things differently. Putting people first has been at the core of Volvo innovation since its inception. In 1927 the company cemented safety as one of its core values, and in 1959, it released its patent on the three-point seatbelt to the public, making all cars safer for everyone. Several years ago, Volvo's IntelliSafe advanced driver-assistance technologies became standard equipment across its lineup. And today, Volvo is focused on doing its part to preserve the future for the next generation by emphasizing sustainability and environmental compatibility. Volvo's goal for 2025 is to offer a lineup that is 50% plug-in hybrid and 50% pure-electric. With its current roster of Recharge luxury cars and SUVs, the innovative Swedish automaker is well on its way.
Volvo Hybrid and Electric Powertrains Explained
As it moves towards its ultimate goal of complete climate neutrality, Volvo's range of alternative-energy vehicles is already one of the most complete in the industry. Every new Volvo model is available with some form of electrification, whether it's mild-hybrid, plug-in hybrid, or pure-electric.
Electric powertrains are significantly more efficient than combustion engines in converting their fuel source into power to horsepower. This not only reduces emissions but also lowers operating costs and improves ride quality and efficiency. Below, you'll find a summary of the electrified powertrain types in Volvo's lineup.
Mild Hybrid
Beginning with the 2022 model year, Volvo is replacing its 2.0-liter turbocharged T5 and twincharged T6 powertrains with new mild-hybrid variants dubbed B5 and B6, respectively. Mild hybrids equip an Integrated Starter Generator to harvest energy from regenerative braking and store it in a 48-volt Li-ion battery. The energy is then leveraged to reduce the engine's burden in high-load situations like ignition and stop-starts. The result is smoother acceleration, reduced fuel consumption, and lower emissions. B5 models produce 247 horsepower and 258 pound-feet of torque, while 295 hp and 310 lb-ft.
Recharge Plug-in Hybrid
Volvo's plug-in hybrid models pair the twincharged (turbo and supercharged) 2.0-liter four-cylinder engine with a larger electric powertrain, producing a combined 400 horsepower and 472 pound-feet of torque. Select Recharge models are available in the high-performance Polestar Engineered variant (415 hp, 494 lb-ft) with performance tires, Öhlins suspension, and Akebono or Brembo brakes.
An 11.6-kWh battery pack helps boost overall fuel efficiency and enables an estimated 18-22 miles of all-electric range before switching to gas, depending on the model. That allows many Columbia City and New Haven drivers to enjoy an emissions-free commute in the morning, and potentially on the way home with ever-increasing public charging options.
Due to its increased capacity, a plug-in hybrid requires charging from an external power source to provide peak performance and efficiency. Recharge plug-in hybrids can charge from 5-100% overnight in six to nine hours using a standard three-prong household power outlet. With Level 2 (240-volt) electric vehicle supply equipment (EVSE), a full charge can take less than three hours.
Recharge Twin Pure Electric
If you're looking to eliminate gasoline from your Fort Wayne-area drives altogether, Volvo Recharge Pure Electric models provide a premium solution. In addition to producing zero tailpipe emissions, pure-electric vehicles cost less per mile to operate than their gas-powered counterparts. Plus, sealed electric motors don't require many common maintenance items like oil changes or belt replacements, saving you lots of time and money on service as well.
Recharge Twin models feature two axle-mounted rotors powered by a 75-kWh battery pack providing an estimated 223 miles of range. Motivated by an all-wheel-drive 402 horsepower and 487 pound-feet of torque, models like the XC40 Recharge and C40 Recharge can reach 60 mph from a standstill in under 4.5 seconds. Charging from 20%-90% (Volvo's recommended capacity range for day-to-day driving) takes eight to ten hours with a Level 2 charger, or as little as 40 minutes at a DC fast-charging station.

Volvo Hybrid and Electric Models
Every Volvo model offers standard or available electrification to some degree. Here's a quick overview:
Volvo S60: A compact luxury car with sporty handling and premium accommodations, the Volvo S60 is an excellent way to enliven your daily commute. New S60 models come standard with a B5 mild-hybrid powertrain. Available powertrains include the B6, Recharge, and Polestar Engineered.


Volvo S90: Volvo's flagship executive sedan delivers ample interior space and plush ride quality for a truly first-class driving experience. The S90 is available as a B6 mild hybrid or Recharge plug-in hybrid.


Volvo V60: Combining the practical utility of a crossover with the engaging dynamics of a sports sedan, the Volvo V60 is ideal for Fort Wayne drivers seeking more versatility with a familiar driving experience. This compact luxury wagon comes standard as a Polestar Engineered model.


Volvo V90 Cross Country: With a capacious cabin and elegant accommodations, the V90 Cross Country midsize luxury wagon delivers a premium experience without compromise. With standard all-wheel drive, softer suspension tuning, 8.3 inches of ground clearance, and some protective body cladding, the V90 Cross Country provides more off-road capability than your typical wagon. The V90 Cross is available exclusively with the B6 mild-hybrid powertrain.


Volvo XC40: Flexible accommodations, nimble handling, and a convenient physical footprint make the XC40 a perfect choice for Fort Wayne drivers seeking extra versatility with city-friendly maneuverability. The XC40 is available with the Recharge Twin powertrain, achieving an estimated 223 miles of pure-electric range.


Volvo C40 Recharge: The C40 Recharge is Volvo's first model without a gas-powered variant. It's similar in size and form to the XC40 but with unique interior and exterior aesthetic enhancements and a coupe-like fastback profile. It features extensive use of sustainable materials and is completely leather-free. Powered by the Recharge Twin powertrain, the C40's sleek design gives just a bit more range (estimated 225 miles) than the XC40 Recharge.


Volvo XC60: A near-midsize luxury crossover with executive design details, upscale accommodations, and cutting-edge tech, the Volvo XC60 provides added passenger room and cargo space while retaining convenient dimensions. It comes standard with a B5 mild-hybrid powertrain and offers available B6, Recharge, and Polestar Engineered variants.


Volvo XC90: Volvo's flagship model is a midsize three-row crossover that thoroughly demonstrates Volvo's signature Scandinavian design and craftsmanship. It's a superb choice for discerning Huntington drivers with larger families who need extra space and seatbelts. The XC90 is available with a Recharge plug-in hybrid powertrain.
Explore Volvo Hybrid and Electric Cars and SUVs at Tom Kelley Volvo Cars near Auburn, IN
For more information about the latest Volvo models or the plug-in vehicle ownership experience, please feel free to contact Tom Kelley Volvo Cars at your convenience. And if you'd like to get behind the wheel to try one for yourself, we welcome you to visit our Volvo dealership in Fort Wayne for a test drive. It will be our pleasure to assist you.
Get in Touch with Us About the Volvo Electric and Hybrid Lineup